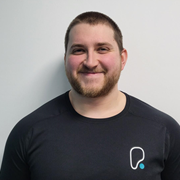 Michael Hearn
Become Stronger and Fitter 
I've been competing as a strongman for the last 4 years across the country, pulling trucks for charity, deadlifting cars, lifting stones and running with all manner of weird objects.  In those years, I've seen my fair share of injuries happen and have had my fair share of them. Being around so many injuries inspired me to go to university to study sports therapy and rehabilitation so I could help people recover and come back stronger than before.
I believe that everyone can benefit from strength training, be it to make their daily life easier (carry all the shopping in one trip), becoming more competitive in their sport or to prevent and recover from injuries.
I'm always happy to show anyone how to safely lift and to give out advise on any injuries and pain they have. Come and see me if you're wanting any advise, want a quick chat or would like to become stronger and fitter!
Specialist Areas
Functional specialist
Injury prevention and rehabilitation
Muscle tone and development
Postural correction
Sport specific training
Strength and conditioning
Qualifications
Level 3 in Personal Training
Sport Massage
currently studying University Sport therapy and Rehabilitation