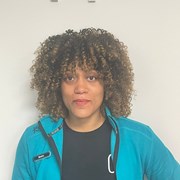 Merrika Carter
Hey everyone my names Merrika also known as Meekz Physiques I am a personal trainer specialising in training women who want to better their general health I work with a lot of women who have had c-sections and genuniely wanting to either loose weight or enhance those curves and tone up.
I absolutely love what I do I teach various different ways 121 sessions, online and evening classes to tailor your needs and busy schedule. My way of training will motivate you helping you to get the gains and results you want.
Many people come to me because they are not confident within the gym or unsure what they are doing and this is what I am here for so YOU can become the better version of yourself! Sometimes we need guidance and support and a little encouragement to get us moving and our MOJO back.
all sessions are tailored to your needs and the outcome of what you want to achieve please feel free to talk to me and enquire on the packages I offer.
Specialist Areas
Body confidence
Body fat reduction
Functional specialist
Muscle tone and development
Nutritional guidance
Weight loss