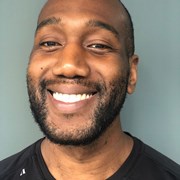 Matthew Johnson
I have been involved in fitness for 20 years. Training has always been very important to me. In that time I've tried and tested a lot of different training techniques. It gives me great satisfaction when you can motivate someone to help change themselves for the better.
I took part in a lot of sports when I was younger, athletics, football and weight training at the gym, but as I got older my main passion for boxing and martial arts took over. I've taken part in a number of White collar boxing events. I see it as a big advantage that my own personal shape has changed so much over the years, as it's given me experience so I can help people with body toning, muscle building, and weight loss.
Personally I care more about how my clients look and feel, rather than weights and measurements. There's nothing better than when someone is happy with themselves and training. I'm very approachable, so please don't hesitate to come to me with any queries or just get in touch!
Specialist Areas
Body confidence
Body fat reduction
Muscle tone and development
Sport specific training
Strength and conditioning
Weight loss
Qualifications
Level 3 Qualified Personal Trainer
Level 2 Gym Instructor
Gym Based Boxing
Indoor Cycling
Circuit Training
Advanced Nutrition