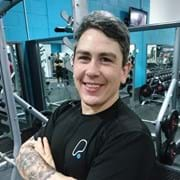 Contact
Free first session offered
Email me
Mark Billingham
Weight Loss 
David (66) Male 
David has been an active member of the gym and had trainers for years, but since working with me he has lost a whopping 30kg. He has achieved this by following personalised program and sticking in a calorie deficit. 
'Mark provides a very personalized training to meet my needs which can be adapted when necessary, enabling me to make continuous process. 
He has a supportive, understanding and friendly approach towards his clients.
With his support and advice he has enabled me to lose over 5 stone in 10 months and increase my body strength' 
Strength Build 
Rudi (31) Female 
Rudi came to me to lose weight, gain strength and  feel 'a bit better about myself' with a personalised program and extended use of the free weights room she has achieved her goals and more! 
Deadlift 40kg up to 110kg
Squat 25kg up to 100kg
Bench Press 15kg up to 45kg 
'when I started with Mark I wasn't confident lifting heavy weights or being in the free weights area. Within a few months I had tripled what I was able to lift and in the free weights area during every session'
Sports Specific 
Maria (27) Female 
"I want to be better at Surfing" Maria wanted to improve full body strength, upper body power and develop core strength. This was all to help her transition on the board, stay on the board and Hang Ten with the best. 
"My surfing is continually getting better and better, the sessions with Mark are awesome and varied. I love that he can always explain WHY we are completing the exercise and is able to relate it back to my Surfing"
 Make Your Mark Fitness
Specialist Areas
Pre and post natal
Sport specific training
Strength and conditioning
Weight loss
Qualifications
Level 3 Personal Training
HND Fitness, Health and Exercise
UKSCA Level 1 Weightlifting
UKCC Level 2 Rugby Coaching
Higher National Unit - Exercise for Mature Movers
Higher National Unity - Antenatal and Postnatal Groups