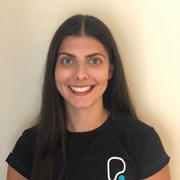 Maria Crick
Hello I'm Maria, the face behind MCPT, a personal training service that strives to help people achieve their health and fitness goals. These goals may include weight loss, muscle tone and development, overall fitness or you might just want to get you're body moving! I want to inspire you to become the best version of yourself, both physically and mentally.
I have always been into my fitness and had a fascination for Science, so going to University to study Sport and Exercise Science meant that I was able to convert my passions and interests into a career. The knowledge I have gained from my studies allows me to educate my clients on more than just how to do something, but explaining why it's important and beneficial in helping the individual reach their own goals.
During my degree I realised the importance of living a healthy active lifestyle and I am currently on my own health and fitness journey, constantly setting myself goals to keep myself motivated and on track. Having goals gives purpose and reason to your fitness journey - everyone's fitness journey is different, there is no "one size fits all" approach to training or nutrition. I am here to help you meet your goals in an enjoyable, maintainable and healthy way - whilst also being realistic.
I pride myself in being an effective motivator, creating a positive environment that everyone feels comfortable and a part of. A health and fitness journey is just as much about how you feel as how you look - I want you to have the confidence and mindset to live your best life and most importantly, learn to love yourself!
If you want someone to help and support you on your journey then please get in touch via email, social media or speak to me on the gym floor - I'm always happy to help and chat!
Specialist Areas
Bespoke plan
Body confidence
Muscle tone and development
Nutritional guidance
Persistent motivation
Strength and conditioning
Qualifications
Level 2 Fitness Instructor
Level 3 Personal Training
BSc Sport and Exercise Science