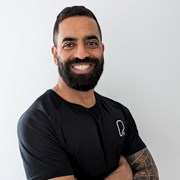 Madhu Subbarao
Hi, my name is Madhu, but everyone calls me Mad
I'm originally from India and I moved to Cardiff 4 years ago to complete my masters in Strength and Conditioning at Cardiff Met University – and I fell in love with Wales!
Prior to this, I worked in Dubai for 6  years as a personal trainer at a range of elite fitness clubs.
Along with S&C certification and L3 Personal Training, I am a qualified yoga instructor.
My classes here in the studio are:
Mondays at 10am and Thursdays 5pm.
I believe that fitness is for everyone! Whether you are a busy individual, juggling family commitments, or an athlete, my style of exercise programming puts wellness at its core whilst delivering the results you want. Exercise is as much about how good it can make you feel, as it is about how good it can make you look!
We all exercise for different reasons and I'm here to bring gym expertise and experience to cater to your individual needs.
So come have a chat!
Instagram: @madfitness_by_madhu
Specialist Areas
Body fat reduction
Muscle tone and development
Strength and conditioning
Weight loss
Boxing
Qualifications
(MSc) Strength & Conditioning
Certified Strength and Conditioning Specialist® (CSCS®) by NSCA
Yoga Alliance 200hr
6D Qualified
Level 3 Personal Training