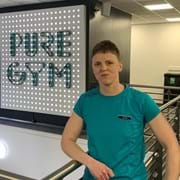 Lynsey Cowan
I've been a Level 3 Personal Trainer since 2010 and a PureGym based trainer since 2013.
Gyms can be an intimidating environment especially to those who are new to weight training/training in general.
My job as a PT is to get you to your goal(s).
If you want to understand and engage in that process PT is a good investment as it will equip you with the fundamentals and confidence to achieve short, medium to long term sustainable results:
by demystifying a training regime
by learning correct form, relevant exercise selection, load, intensity, frequency and progression
Grasping the effects of dietary choices on health including healthy body composition, strength and energy levels that is essential for supporting physical performance and development
Minimising injury and muscular imbalances by teaching you how to execute relevant exercises that take into account your current abilities and goals
Manageable lifestyle adaptations
Accountability (keeping you focused and on track)
Enjoying your training (or you won't sustain it)!
Specialist Areas
Bespoke plan
Functional specialist
Injury prevention and rehabilitation
Muscle tone and development
Nutritional guidance
Postural correction
Strength and conditioning
Qualifications
Personal Trainer & Advanced Instructor
Gym Instruction
Torso Training and Core Stability
Circuit Training
Extreme Kettlebell Instructor
Nutrition and Weight Management
Nutrition for Sport and Exercise