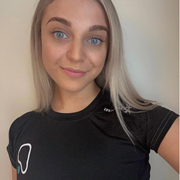 Lydia Hawkings
Hi, I'm Lydia, a Personal Trainer and Fitness Coach here at PureGym.
I have a keen interest in fitness, specifically weightlifting, strength training and high-intensity interval training. 
I have been involved in the sport and fitness industry for almost 20 years as I started training in gymnastics and dance at a young age.
I have been training in the gym for nearly 6 years and I absolutely love it, so I recently decided to make a career out of it. I am to help people gain confidence in the gym so they can reach their full potential, achiever their goals and learn to love exercise.
Whether you're a beginner looking to learn the fundamentals of training, or you're an experienced gym-goer just looking for some accountability and motivation, I'm here to help!
Please get in touch if you're ready to start making changes towards a healthier body, mind and future. 
Specialist Areas
Body confidence
Strength and conditioning
Weight loss
Qualifications
Level 3 Personal Training 
Level 2 Gym instructing 
Gymnastic Coaching Qualification Level 1