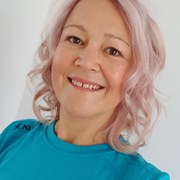 Contact
Free first session offered
Email me
Lizy Bartaby
Hi! I'm Lizy and I want to help you find your way to a healthier lifestyle, achieve your goals, and become fitter, stronger, leaner and most importantly, happier in yourself!
I used to hate exercise! Other than walking I did very little and the thought of going to a gym just made me feel tired! Instead, I joined a well-known slimming club and although I lost 35lb over 3 ½ months the first time, it soon went back on, though I believed I was 'maintaining'. Each time I re-joined I would lose and then put back on. After four attempts I lost all motivation and belief in myself.
After having my son I eventually joined a gym, and with the right guidance from a trainer, I learnt how to get the best out of my workouts. That's what I would like to do for you. I will guide you, motivate you, and support you relentlessly through your journey, whether that is fat loss, toning, muscle building, or overall fitness. And workouts shouldn't be boring! I use lots of different methods to help you achieve your goals; boxing, HIIT training, strength training, games, but most of all, fun!
I look forward to meeting you, and if you need any help around the gym, please feel free to come and talk to me, any time!
And remember...
Believe you can and you're halfway there!
Specialist Areas
Body confidence
Body fat reduction
Nutritional guidance
Persistent motivation
Pre and post natal
Special populations
Weight loss
Boxing
Qualifications
CYQ Level 2 Certificate in Fitness Instructing (QCF) – Gym-Based Exercise
Active IQ Level 3 Diploma in Personal Training
Active IQ Level 3 Ante and Post Natal Fitness Instructor
Active IQ Level 4 Certificate in Physical Activity and Weight Management for Obese and Diabetic Clients
YMCA Level 3 Diploma in Exercise Referral (QCF)
YMCA Padwork For PTs
Professional Diploma for Advanced Sports and Exercise Nutritional Advisor