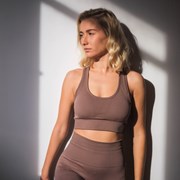 Contact
Free first session offered
Email me
Liv Chapman
Why chose me to be your Personal Trainer?
Firstly, I know what's it's like to feel "different". We all do to some extent. But have you ever stepped outside your comfort zone and done something about it?
I'm here now, as a PT, to let you into my world of embracing differences and overcoming obstacles that are in our way of achieving the goals we want.
How will I achieve this?
Through past experiences, I am able to empathise with each individual and help them not only reach their goal but to excel and become stronger physically and mentally.
Everyone has different paths to achieving the same goal. The destination is the same, it's how you get there that is unique to you.
My mission is to guide and support you in finding your own path to success.
By sharing my story I will encourage self belief and motivate others to feel confident within the gym and in trying something new!
Specialist Areas
Body confidence
Body fat reduction
Nutritional guidance
Special populations
Weight loss
Qualifications
Level 2 Fitness Instructor
Level 3 Personal Trainer
OPT Model Certificate
Nutritional Advisor