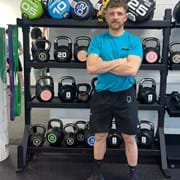 Contact
Free first session offered
Email me
Liam Openshaw
Are you unsure of what to do to achieve the results you want?
Do you find yourself doing the same exercises or on the same machines and not getting any closer to where you want to be? Busy lifestyle? Wondering what to do and how to go about it?
We will work together to plan the  best journey to get to our destination the quickest way possible whilst working hard, keeping it fun and helping you with your habits, to achieve the body and self confidence you want.
If this sounds like you? Then please message for more information and to book your complimentary taster session to kick start your journey today.
Specialist Areas
Functional specialist
Injury prevention and rehabilitation
Muscle tone and development
Weight loss
Boxing
Qualifications
Certified Level 2 Fitness Instructor
Certified Level 3 Personal Trainer 
Certified Level 3 GP Referral