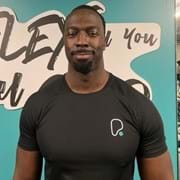 Lee French
Glad I caught your attention!
Just a little introduction, my names Lee and I've been a fitness enthusiast for 12+ years training in combat sports such as Boxing, Muay Thai, bodybuilding and general athletic style training. My health and fitness became my lifestyle after seeing family and friends suffer from avoidable ailments and injuries. I saw the benefits early on luckily from attending the gym for the 1st time when I was 16 and never looked back.
After years as essentially a hobbyist, I decided to take the step into the profession as a Personal Trainer after training a few friends of mine from time to time. I earnt my qualifications and just like magic I'm here hopefully about to join you on your fitness journey. Oh, and I'm 6'6!
You'll see me floating around the gym and if not, you can contact me on WhatsApp, Instagram, or email. See you soon.  
Specialist Areas
Body fat reduction
Muscle tone and development
Sport specific training
Strength and conditioning
Weight loss
Boxing
Qualifications
Level 2 in Gym Instructing
Level 3 in Personal Training