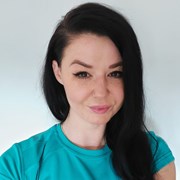 Kasia Jakob
I am part of the Personal Training team here at Salford.
As a Personal Trainer and a woman, I want to inspire and encourage other women to embrace their strength and help them be their best and healthiest self, physically and mentally. I'm passionate about helping women to begin to celebrate what their bodies are capable of rather than criticizing how they look and start developing a strong body and mindset.
From a young age, I have been involved in sport. Passionate about running, from sprinting to half-marathons. After battling PTSD for a couple of years, joining a gym and starting weight training was the best decision I've ever made. It helped me to find my inner strength and I believe that mental change must come before physical change. Speaking from personal experience, lifting weights introduced me to new challenges and helped me to see my true strength and real progress toward the physique I wanted. While I enjoy training all muscle groups for a well-balanced physique, I especially like lower body workouts. Leg day always makes me feel the strongest. I really enjoy different deadlift and hip thrust variations and how they shape my glutes, hamstrings, and thighs.
Strength training changed my life and I believe it can change yours too. I would love to show you that lifting weights doesn't have to be complicated or intimidating but incredibly empowering and it makes you physically and mentally stronger.
As a mum I understand how difficult it is to find time and motivation to exercise when having kids. But training doesn't have to be long - it needs to be smart. My aim is to help you organise your schedule, set up realistic goals, monitor your progress and reach your goals with a custom training plan, whether it is reducing body fat, gaining muscle or improving your general fitness.
With my support and your determination, we can change your life!

Don't hesitate to give me a call, drop me an email or come to say Hi on the gym floor. Looking forward to meet you.

#LiftYourself
Specialist Areas
Bespoke plan
Body confidence
Body fat reduction
Strength and conditioning
Weight loss
Qualifications
Level 2 Gym Instructor
Level 3 Personal Trainer
YMCAfit Certificate in HIIT