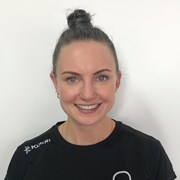 July Styles
My goal is to deliver personal, enjoyable training sessions that enable you to achieve your goals, whilst helping you to make changes to ensure a lifelong healthy attitude to fitness and nutrition. I believe in maintaining a healthy mind and body by keeping fit and eating well.
S.C.U.L.P.T.
Strength
Get strong, build and develop muscular strength and appearance. Strengthen and maintain bone density. Increase functional strength, improve posture and core strength.
Cardiovascular
Strengthen your heart and lungs, get fit and stay healthy. Burn fat and stay lean. Improve your endurance and reduce the risk of heart disease.
Unique
Training that is specifically for you to ensure you reach your goals. Train in a way that works for your body, schedule, lifestyle and personality.
Lifelong
Make healthy choices and changes to ensure a lifelong commitment to a healthier lifestyle and a happier you.
Personal
One-on-one sessions tailored to you with a personal approach ensuring you achieve your goals. Stay motivated by keeping in touch in between sessions.
Training
Training your mind and body together to reach a healthier and happier you.
Let's move well and feel good! I look forward to working with you!
www.trainwithsculpt.com
Specialist Areas
Bespoke plan
Body confidence
Body fat reduction
Injury prevention and rehabilitation
Muscle tone and development
Nutritional guidance
Postural correction
Sport specific training
Strength and conditioning
Weight loss
Qualifications
Level 4 Strength and Conditioning coach
Certificate of Nutrition - Optimum Nutrition for Health and Performance
Level 3 Personal Trainer
Level 2 Fitness Instructor
Circuits Instructor
Gym Based Boxing Instructor
Studio Cycling Instructor