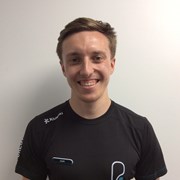 Josh Merson
Hi, my name is Josh.
I began my fitness journey at the age of 14 when I became interested in increasing my overall muscle mass as I was unhappy with how I looked and had many body confidence issues. After a year I began seeing major improvements in myself and became progressively interested in fitness and nutrition so I began to take my training more seriously and set myself a diet plan to put more weight on.
Now, at the age of 23, I am the best I have been but I still strive for improvement within myself as I believe that I can always progress and improve myself further.
I attained my Level 3 PT qualification in 2018 as I want to help people to improve their fitness and wellbeing like I did for myself. I also like to meet people who are new to fitness and looking to get started so I can help them to find passion in fitness like I did.
If you ever see me around the gym feel free to say hi and we can chat about how I can help you to achieve your goals big or small, alternatively you can reach by phone or by email, I look forward to meeting you and helping you on your journey together.
Specialist Areas
Bespoke plan
Body confidence
Muscle tone and development
Persistent motivation
Weight loss
Qualifications
Armed Forces BSc Hons
Level 3 Personal Trainer
Kettlebell Instructor
Spinning Instructor
Les Mills