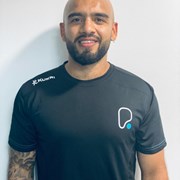 Jorge Suarez
We all have a past and I'm sure, many times, we have been grateful for it.
In my past, I have overcome lots of barriers such as being in a road traffic accident that led me to be in a wheelchair for the rest of my life - doctors said. 
Thanks to faith, support and the desire to not give up I started walking again. 
I also had surgery on both of my hands and the last barrier I've had to overcome when I dislocated my right clavicle whilst playing football. 
it took me one year and a month to recover and to be able to work out properly. 
Thanks to my past, I have been through different fitness stages therefore I have learnt from my own experience how to lose weight and gain muscle by working out hard but also carefully as I have had many injuries.
so my message here is if I did it, you can do it as well and if you don't know how, I am here to help!
Checkout my Instagram account if you wish: th3_surv1vor 
Specialist Areas
Muscle tone and development
Strength and conditioning
Weight loss
Qualifications
Level 2 fitness instructor
level 3 personal trainer
first aid