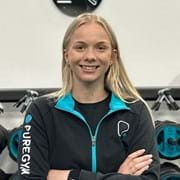 Jessica Collins
Fitness has been a huge part of my life, since a very young age. I have been on my own personal journey the last 5 years, gaining 2 stone and recovering from distorted eating.
During my teenage years, I had a very dysfunctional relationship with food and exercise and after seeing the mental and physical affect it had on me, the drive in my heart to recover and help other people build a healthy relationship with food and exercise became stronger.
Fit with Jess is all about building people's confidence in and outside of the gym, while living a healthy balanced lifestyle without the dreaded "diet culture". Having been through exercise and diet struggles myself, I understand the pressure this can cause. However, I am here to show you that fitness is not all about running on a treadmill and eating salads, it is a whole lifestyle that can be extremely enjoyable when you find what works for you.
Specialist Areas
Body confidence
Muscle tone and development
Persistent motivation
Qualifications
Certified Level 3 – Personal Trainer
Certified Level 2 – Gym Instructor