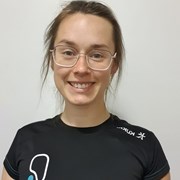 Contact
Jen Harrap
Have you been struggling to lose fat and gain strength because you're living that desk life?
Yes?
I know I could have held both my hands and feet up a few years ago. I was working 45+ hour weeks, commuting for 2 hours a day and trying to fit in all the other priorities into my life! Never mind trying to focus on my health and fitness. 
I let that weight slowly creep on and my energy was super low. Sound familiar?
Well I found a way to lose 30lbs, and achieve things in my fitness journey that I would have laughed at previously (like running the Yorkshire three peaks and being able to do pull ups). All of this I achieved while still working those crazy hours in my corporate job for 7+years. 
I love keeping things interesting with my training. So I do a mix of strength training, jumping about and climbing on things (if you have seen CrossFit, you'll know what I mean).
I pride myself on being the most organized person in West Yorkshire, therefore I can help you fit fitness into your life. Meaning I can find exercise that will keep you interested and not take up all your time so you continue to stay motivated to progress. 
I am looking to work with corporate women who are tired from working long hours, unmotivated to move; stuck in that yoyo dieting life, and NEED to finally take control of their health. 
Sound good? Why not check out what my clients have to say about the results I got for them. 
Check out my instagram and facebook 
www.instagram.com/jenharraphealth 
www.facebook.com/jenharraphealth 
If you'd like to have a chat with me, grab me in the gym or drop me an email jen@jenharrap.com. 
My business hours are; Mon-Fri: 5.30am-3pm.
Specialist Areas
Bespoke plan
Body confidence
Body fat reduction
Muscle tone and development
Persistent motivation
Weight loss
Qualifications
First Aid Trained
Level 3 Qualification in Personal Training
Level 2 Qualification in Gym Instructor