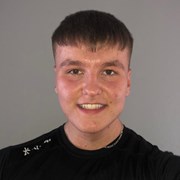 Jack Sarginson
I have always been engaged with sports from an early age, I loved football, basketball, swimming and athletics. Around the age of 14 I found the gym and how lifting weights can build a physique that's astonishing to the eye. Ever since I have been fascinated in fitness to say the least.
Back when I was younger, I struggled a lot with weight and confidence, over the course of these years gone by I have undergone a transformation of my own which has inspired me to dive into the world of Personal Training. I have always been competitive and passionate, especially when it's something I desire. Therefore, I am passionate not only about my own goals and outcomes but others also! Whatever they may be.
I am constantly learning and gaining experience in order to persevere and improve my career. Which allows me to give my best output to you!
To be able to have the opportunity to be a Personal Trainer is a dream to me, I want to have the satisfaction of providing such a life-changing opportunity. It's never too late to start your own journey in fitness, no matter how you look, face new challenges. I'll be by your side the whole way, providing motivation and commitment to you, transforming your body into those goals that you so inspire.
And to anybody out there that is looking to start a Fitness Pathway of your own, I'm ready and waiting!
Ask yourself, are you ready to undergo a life-changing opportunity?
Let us go through this life change together!
Instagram: @PT_Jack_
Specialist Areas
Bespoke plan
Body confidence
Body fat reduction
Muscle tone and development
Weight loss
Qualifications
Level 2 Fitness Instructor
Level 3 Personal Trainer
Level 3 Double Sport Diploma
A-Level Biology