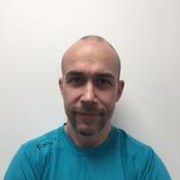 Ian Matt
My focus is to coach and guide you towards understanding how to keep your body in perfect shape, moving and looking precisely the way you always wanted. As a current international (GB) athlete, I fully understand the challenges of balancing training with a modern working and family life. It's tough but 100% achievable. Over 20 years as a sportsman, and more than seven years as a Personal Trainer give me the experience to show you how to train intelligently.
It's not about how many hours you can train, but how you apply the time that you do have. Want a perfectly toned stomach? Need to gain general fitness? Looking for strong toned legs? Need to add muscle to your chest and shoulders? Want to break that personal best for the marathon? Whatever your goal and whatever your gym experience, I'm here to help you achieve success.
Are you serious about your sport? Currently performing at a high level in a team or solo discipline? This is my specialty area. With a huge amount of experience in performance training, specific sports movements, strength training, and body conditioning, I'll coach you towards being faster, more agile, stronger, and with greater endurance. Talk to me about your goals and aspirations, and we'll take you to the next level.
Specialist Areas
Functional specialist
Muscle tone and development
Sport specific training
Strength and conditioning
Qualifications
Advanced Functional Trainer (Faster Global)
Applied Movement Specialist (Faster Global)
Specialist in Functional Performance (Faster Global)
UK Strength & Conditioning Association Speed and Plyometrics
UK Strength & Conditioning Association Olympic Lifting
Active IQ Level-3 Advanced Personal Training Diploma