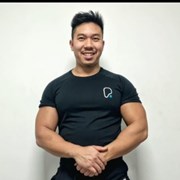 Hugo Chan
When I was 10 years old, my father had a very near fatal heart attack. The doctors told him; if you had not exercised regularly, your heart would have not been strong enough to survive and you would not be here with us. He went on to have two more heart attacks which he survived and is still kicking till this day, eating well and exercising at least 3/4 times a week at the fine young age of 73.
His survival inspired me to live a life of healthy eating, fitness and wellbeing. To study stem cell research in my Masters at University to understand the human body and become the best Personal Trainer I could be. One who prioritised health and results in an industry riddled with myths, misinformation and misguided outcomes.
What I learnt when I was 10 is that you cannot put a price on your health. My family, friends, loved ones, happiness and financial success, or anything else which I could deem more important all rest on the tectonic plate which is my health, mind and body equally.
If you're reading this today, empower yourself to make a change in your life! Wherever you are on your health and fitness journey, I am here to guide you, cultivate knowledge, inspire you, motivate you and be there along side you on your path to success!
Specialist Areas
Muscle tone and development
Nutritional guidance
Postural correction
Strength and conditioning
Weight loss
Qualifications
Level 3 Personal Trainer
First Aider
S&C Coaching