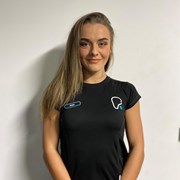 Helen Laverick
Hi! I'm Helen! 
People ask me how did I get into fitness? My relationship with fitness was all for the wrong reasons! I would only train to see how many calories I could burn, always fixating on the scales! Exercising just to look good to others and not for myself or my well-being. Having this mindset was only ending up in a vicious cycle of staying the same and not noticing a difference in my appearance or health. 
As a Personal Trainer here at PureGym I want to provide an understanding to others on how important it is to take care of yourself for all the right reasons and not for the wrong reasons! As a PT I can relate to so many others that don't have confidence and understanding when it comes to the gym and nutrition! I was once in their shoes! 
Fitness is my passion for all the right reasons not just for other to recongise! I can't express how excited I am to change the mindset of so many others to reach their fitness goals! 
Don't be afraid to come up if you have any questions on literally anything! I can direct you down the right route on how to build muscle, lose weight, you name it! Always here to help with any of your needs!
Specialist Areas
Body confidence
Body fat reduction
Muscle tone and development
Strength and conditioning
Weight loss
Qualifications
BSc (HONS) Applied Sport and Exercise Sciences with coaching
Level 3 Personal Trainer
Level 2 Fitness Instructor
Sports Massage