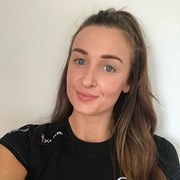 Hayley Thacker
I'm committed to helping each of my clients reach their goals, in an achievable way that fits into their lifestyle.
Whether your goal is fat loss, toning, muscle gain or building strength, I'm confident I can inspire, motivate and guide you to achieve your desired results.
On my own fitness journey, I reduced my body fat whilst building muscle overall, mainly in the abs and glutes, without drastically changing my eating habits.
As a big foodie, I won't suggest drastic cuts. Life is meant to be enjoyed, and we can achieve your goals, whilst living a healthy balanced life!
If you would like to know more about what I can do for you, please contact me on the above details, or feel free to have a chat with me in the gym.
The sweat, the time, the dedication. Together it will pay off!
Specialist Areas
Bespoke plan
Body confidence
Body fat reduction
Muscle tone and development
Nutritional guidance
Persistent motivation
Weight loss
Qualifications
Level 2 Gym Instructing
Level 3 Personal Trainer