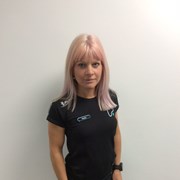 Hayley White
Hi, a PT & Medical Exercise Specialist.  15 years' plus experience.  Extensive qualifications with a passion for health and fitness. I am not just for the Elite, but for those who demand the very best.
1 to 1 programmes for medical conditions, postural correction, post-rehabilitation, endurance training (triathlon/ultra races) and fat loss. My knowledge and expertise enables you to achieve your goal whatever the circumstances are. Using advanced Postural, Movement Screen Assessments and the latest Exercise Techniques, I will design a detailed Exercise & Nutritional Programme as individual as you.  It's all too common that following DVD/magazine exercise programmes, you may be doing more harm than good.
Personally, as a successful, experienced Endurance Athlete, I have competed MdS (Sahara finished 11th GB Female), Deadwater (Scotland to Wales 2nd Female), 50+mile Trail Races (podium finishes) and most recently became the 1st GB Woman to complete the 6633 Arctic Ultra in March 2019 (383 mile race across the Arctic Circle). I engage in lectures and presentations re my Adventure Ultra Running.
Please contact me at your convenience to discuss your personal circumstances.
Specialist Areas
Bespoke plan
Body fat reduction
Injury prevention and rehabilitation
Pre and post natal
Special populations
Qualifications
Level 4+ Personal Trainer
Corrective Exercise Specialist
Rehabilitation Trainer
Medical Exercise Specialist
Pre & Post Natal, Youth and Elderly Programme Design
First Aid & Defib
Sports Nutrition
Kinetic and Biomechanical Assessment