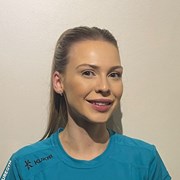 Contact
Free first session offered
Email me
Georgia Pite
My fitness journey started back in 2016 after having my first little boy, I gained a lot of weight in pregnancy and lost a lot of self confidence. Since then I struggled to find something that really worked for me as an individual. I tried various apps, watched YouTube videos and followed various workouts but nothing was getting me the results I wanted.
After having my second little boy and going into lockdown, I tried following another app which again was not getting me the results I desired. So I decided to take a leap and signed up to a personal trainer course and started training myself with my own knowledge and finally got myself to where I wanted to be.
I want to be able to help people who like me, may have felt they've tried everything but are not getting the results they want. I've made and learned from my own mistakes so that you won't have to, and I understand how hard it can be especially when you're a mum to find that self motivation, but it is possible and I can help get there!
Together we can find a way of training that you enjoy and gets you the results that may seem impossible to you, I'll be with you to guide throughout the whole process and help you stay on track.
Please feel free to contact me if you have any questions via my email or social media and I'll be more than happy to help or come and find me around the gym so we can have a chat.
Specialist Areas
Body confidence
Body fat reduction
Muscle tone and development
Nutritional guidance
Persistent motivation
Weight loss
Qualifications
- Level 2 Fitness Instructor
- Level 3 Personal Trainer