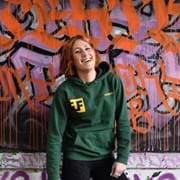 Gemma Masterton
Hey folks, I'm Gemma. 
After being active in my younger days doing football even getting my coaching qualification, volleyball, gymnastics & generally being a lot more active. I lost the love for it becoming slightly lazy & lost my confidence & myself when I settled down in my 20s. I was the heaviest I'd ever been after fertility issues & worn down to a shell of myself 
This all changed about 4 years ago when I decided enough was enough and I needed to do something about my weight/lifestyle. So I joined here at PureGym Dunfermline where some of you will have seen me as member over this time. I, like a lot of people, found myself scared of the gym, scared of being judged, scared of the free weights & not really knowing what I was doing. So I stuck to hiding out in classes for a few months until I plucked up the courage to venture out into the gym 
After losing weight I really wanted to build some muscle so after dabbling in resistance training I found a love for the gym & how it made me feel. Seeing all the mental health benefits that came along with the weight loss & getting stronger made a massive difference for me personally. 
I want to help others overcome their own gym anxieties in order to achieve their own fitness goals. My aim is now to help people not only in the gym environment but to become confident in themselves inside and outside of the gym along with achieving their goals. I want to be there to push you through when you are struggling but also celebrate when you succeed. I will be your biggest cheerleader there to help you along the way & provide you with the knowledge to keep you going for years to come. 
Whether you are a total newbie or an avid gym goer who like me has been hiding in classes or you just need some accountability why not get in touch today to see what we can do together in order to help you achieve your goals & gain some routine in your fitness journey. 
You got this, we got this! 
Specialist Areas
Body confidence
Body fat reduction
Muscle tone and development
Strength and conditioning
Weight loss
Qualifications
Level 2 Gym Instructor
Level 3 Personal Trainer
Enhanced Circuits & Core Qualified
First Aid Qualified