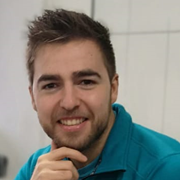 Felix Vallejo
I have always been in a sports environment and that was the reason that motivated me to study my career to enter the fitness industry which plays a very important role in life for years. I really love what I do and I am proud to help people achieve their goals. I have a wide range of knowledge in strength, muscle hypertrophy and weight/fat loss.
At the end of my studies many of my classmates interpreted that they had finished their learning stage, however I consider that your qualification is a simple step of the many that you have to climb. It is a mistake to think that your learning stage ends when you finish your studies. That is why I spend a lot of my time reading scientific sports literature, which helps me to keep up to date on the different types of advanced training that help you achieve your body goals.
Regardless of your fitness or experience training, values such as perseverance, effort and self-demand are essential. I can determinate a number of factors to help you improve your body composition and have more confidence in yourself.
Do not be shy! Contact me and I can book you for a free consultation/30-minute session.
Specialist Areas
Bespoke plan
Functional specialist
Injury prevention and rehabilitation
Postural correction
Sport specific training
Strength and conditioning
Weight loss
Qualifications
Career in Physical Activity and Sport Science
REPS Level 3 - Personal Trainer
Prehabilitation of sports injuries. Upper and lower limbs
PVG Scheme Record – Disclosure Scotland 
Lifeguard 
First Aider