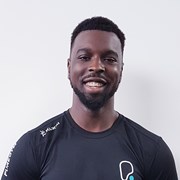 Emron Araromi
From a young age I had a real fascination about how the body worked and that led me down the paths of getting a degree in pharmaceutical sciences, but working in that industry for three years after university I realised my real passion lied in preventing the illness instead of administering drugs to treat illness that could easily be prevented by living a healthier lifestyle. This sparked my holistic approach to health and fitness.
I myself have been on my own fitness journey, I played high schools football (American) and basketball and just before I started university I started my journey to gain muscle mass and I've come a long way and aim to go even further and compete in a Mr physique competition by 2020.
So if you're looking to build muscle mass, reduce fat, lose weight or even gain weight, if you're looking to build a more muscular, toned aesthetic or you want to build curve for a more womanly figure or if you simply just want to maintain a good level of fitness and you want nutritional advice to complement your training.
Book a complimentary consultation with me now and let's start moving towards your goals.
Specialist Areas
Bespoke plan
Body fat reduction
Muscle tone and development
Nutritional guidance
Strength and conditioning
Weight loss
Qualifications
Level 3 qualified in Personal Training
Level 2 qualified Fitness Instructor
Fist aid trained
Qualified in pharmaceutical science