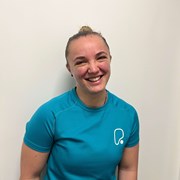 Ellie Myatt
A little bit about me... My love for fitness and different sports started when I took up boxing, competing at an amateur level for 2 years I now use what I've learned in my 1-2-1 PT sessions and classes.
I believe that anything you put your mind to is achievable. No matter how big or small your goals are I want to get you there!
I aim to change the way we all view fitness for all my clients and members. I want fitness to become something we enjoy and start saying "I can!" I don't believe in the word can't. No matter your barriers whether it's physical or mental I will always be in your corner, coming from a boxing background I know how important it is to have someone in your corner cheering you on and pushing you beyond what you thought was possible. 
I aim to be that for YOU! Your ringside woman and your biggest supporter.
No matter your age, gender or goals I want to help you get there and help you fall in love with fitness again or for the first time. I cannot wait to meet you, work with you and most importantly have a giggle. Exercise is fun and I am to prove that. 
Specialist Areas
Body confidence
Muscle tone and development
Weight loss
Boxing
Qualifications
Level 2 Fitness Instructor
Level 3 Personal Trainer