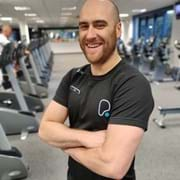 Des Coles
Sports and fitness have played a huge role in my life over the last few years. But this was not always the case. I remember the day I decided to change my life and get active.
I was lying on my couch watching TV with one of my friends: we were both feeling miserable, tired and run down with heartburn that would not go away. This scenario had been recurring every night for a few months.
It was horrible, but that night I decided that enough was enough, I was going to sort my lifestyle out. I joined the gym the very next day. There I met some great people that helped me turn my life, my health and most importantly my attitude to exercise and diet completely on its head.
Just as importantly I was having fun while I was doing it. Within a month my nightly heartburn stopped and I had stopped feeling run down. I never looked back!
Specialist Areas
Body fat reduction
Functional specialist
Injury prevention and rehabilitation
Muscle tone and development
Nutritional guidance
Postural correction
Special populations
Sport specific training
Strength and conditioning
Weight loss
Qualifications
Level 4 Strength & Conditioning
Scottish Massage School - Remedial Sports Massage Diploma
The Starrett - System movement & Mobility 101
Scottish Massage School - Swedish Massage Diploma
Level 3 Personal Training
Level 1 - British Weight Lifting