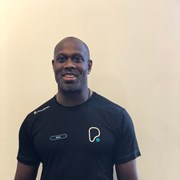 Dave Jean
Hi, my name is Dave. I am one of London Bow Wharf's health and fitness professionals with over 30 years' experience as a Personal Trainer. I have worked with a wide range of clients helping them to achieve a variety of goals.
My goal is to ensure that you meet your goal. I am highly motivated to help clients get stronger, fitter, healthier, and have a better quality of life.
I offer bespoke Personal Training for beginners who need guidance on how to exercise safely and effectively, and also for advanced clients that need guidance on the different approaches they can take to make progress. I help my clients to work to the best of their ability and educate them to achieve their goals.
I have a keen interest in functional training which assists clients with back/knee problems and can improve their quality of life.
I come from a bodybuilding/fitness background and incorporate kettlebell, Cross-fit, functional and high intensity training (HIIT).
I will motivate and encourage you to be the best you can be in your challenging sessions.
If you are interested please get in touch so we can have a chat.
Specialist Areas
Body fat reduction
Muscle tone and development
Nutritional guidance
Sport specific training
Strength and conditioning
Qualifications
Level 3 Personal Trainer
Level 3 Gym Instructor
Level 3 Nutrition & Weight Management
Level 3 Sports Conditioning
GP Exercise Referral
Personal Training Boxercise
Kick Boxercise
Kettlebell Instructor
Level 2 Exercise to Music
Level 2 Water-Based Exercise
Circuit Training