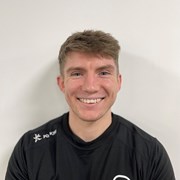 Dan Spencer
Allow me to introduce myself My name is Dan Spencer,
I am a fully qualified Sports Therapist and an active member of the Sport Society of Therapists and a Personal Trainer who is keen to help individuals like yourself! to achieve your goals. 
Have you been going the gym for some time now and don't really have a structured program week in week out? Or are struggling to put on muscle mass or lose weight? It is time to choose get a Personal Trainer and you  should choose me! Why do I hear you ask well let me tell you why!
I am very scientific with my training and teaching style.
I will not just help you achieve physique you can be proud of but educate you on how we can optimize your training, ensure we get best possible results and get the best out of your training. I will create a training program that will help you get a physique that you will be proud of and offer my expertise so you can ask me question  whether I am with you or not. I am here for you! 
 Furthermore, I am a Sports Therapist who is keen to aid your recovery from a current injury or a past injury that is causing you issues. I will create your very own injury prevention / rehibition program. To ensure you come back stronger and better than ever. 
I understand recovery from exercise can be an issue therefore, I will offer my expertise to help aid your recovery. So, you are ready for our next session together!
Specialist Areas
Bespoke plan
Injury prevention and rehabilitation
Muscle tone and development
Nutritional guidance
Sport specific training
Strength and conditioning
Qualifications
Bachelor of Science Second class Honours ( 1st division) in Sports Therapy and Rehabilitation
LEVEL 3 Diploma in BTEC Sports development coaching and fitness
LEVEL 3 Diploma in Sports massage