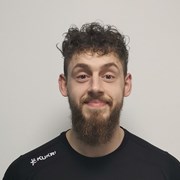 Dan Korcu
My name is Dan and I'm a hard-working Personal Trainer with a lifelong passion for health and fitness. I have a Bachelor of Science Degree in Sport and Exercise Science, studying modules in: nutrition manipulation, sport psychology, exercise physiology, biomechanics of strength and injury, and cardiac rehabilitation.
I aim to create a comfortable and rewarding environment in which to help you reach your goals. I believe that by prioritising health you can prevent injuries from occurring. As we work towards your specific health and fitness targets, I will also help you improve areas such as confidence, motivation and commitment, which in turn will improve all aspects of your life.
Being a type 1 diabetic with many goals of my own, I can understand the ongoing struggle most people have when trying to reach their own aspirations. Knowing this, I want to help you get to where you want to be.
If you have any questions please feel free to contact me. I look forward to meeting you!
Specialist Areas
Body confidence
Body fat reduction
Body fat reduction
Injury prevention and rehabilitation
Nutritional guidance
Sport specific training
Strength and conditioning
Weight loss
Qualifications
Bachelor of Science Degree in Sports and Exercise
Level 3 in Personal Training
Level 2 in Gym Instruction
Spinning Instructor
Metabolic Resistance Training
Gym Based Boxing
Advanced Nutritional Strategies