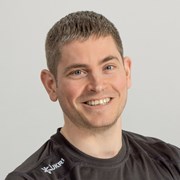 Chris Birnie
Hi, how you doing?
I'm Chris of BWB Fitness, I have been a regular gym goer off and on for years, more on then off. I like the feeling you get after an excellent session, that burn, muscles soreness. For me that's why I keep going back to the gym, even more so on leg day!
After having back surgery I decided to become a Personal Trainer. I like to help people with their injuries to become stronger than they were before (like what I have been able to do). I will do this by providing you with the correct lifting technique/posture, saving you going through the same pain as I did.
I help my clients by giving you the knowledge on how to train, give you the confidence to succeed, give help and guidance for us to achieve your goals.
I believe fitness should be a part of everyone's life, whether you're looking to lose weight, training for a sport, new fitness challenge or just want to maintain your fitness.
My goal is to provide the correct service to you, to ensure we reach your fitness goals. Together we can create a customised training plan that is creative, exciting and ensures that you look forward to each session.  
Remember "The hardest Lift Is Lifting Yourself Off The Sofa"
If you like what you are reading, contact me today and book in for a free consultation.
Hope to see you on the gym floor soon.
Thanks for your time,
Chris
Specialist Areas
Bespoke plan
Body confidence
Body fat reduction
Muscle tone and development
Nutritional guidance
Persistent motivation
Postural correction
Sport specific training
Strength and conditioning
Weight loss
Qualifications
Level 4 Strength and Conditioning Coach
Level 4 Lower back pain specialist
Olympic Weightlifting Coach
Level 3 Personal Trainer
GP Referrals (High Blood Pressure, Arthritis, Joint replacements, Breathing disorders and more) 
Level 2 Gym Instructor
Indoor Cycling
Suspended Bodyweight Training (TRX)
Kettlebell Training