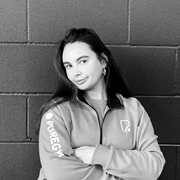 Contact
Free first session offered
Email me
Chloe Lawrence
Pure Gym Haverhill, hello! My name is Chloe 😊
Fitness for me goes far beyond aesthetics. I first started exercising in a gym after my first year at university. However, my workouts had little structure, consisted primarily of HIIT, I was always injured/burnt out and I was not getting the results I wanted. I finally began weightlifting which I had spent years avoiding, afraid it would make me 'bulky'. Spoiler: it did anything but!
I have since competed in the Bleinham Palace triathlon, competed in the Nobull CrossFit Open, and have taken part in various cycling events such as the Rapha women's 100 and London to Windsor.
Aise from this, my fitness and strength are the best they have ever been.
Fitness should be a lifestyle, not a short-term fix. I believe in an inclusive diet, intuitive eating and not cutting out ANY foods.
I want to help you:
Reframe your approach to fitness, better your relationship with your body, improve your mental health.
Push past your boundaries to reach peak athleticism.
Create a sustainable physique with increased muscle mass and a lower body fat percentage.
Educate you on fitness and nutrition so long term, you can take care of your own routine.
Become the fitness, fastest, strongest, and above all HAPPIEST version of yourself.
I work with all levels, from complete beginners to athletes training for their next big challenge.
My specialist areas range from traditional weight loss and strength training, to priming you for your first triathlon. Whatever your goal, I am here to guide you.
Specialist Areas
Bespoke plan
Body confidence
Body fat reduction
Functional specialist
Muscle tone and development
Nutritional guidance
Persistent motivation
Sport specific training
Strength and conditioning
Weight loss
Qualifications
Level 3 Personal Training
Level 2 Fitness Instructor
Sports Leader UK Level 1 (QCF)