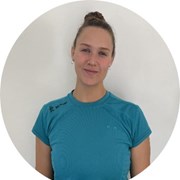 Charlotte Grigorey
There has always been such an attraction to sport and exercise for me.
It has provided the groundings for self empowerment and self development. Skills which have been crucial in cultivating the person I am today.
My passion therefore, is to educate and help people to become the best version of themselves, using the power of exercise to achieve this.
Working together not only will we accomplish the physical goals that you have set yourself, but we will establish the importance in the stability of mental health and the huge role that exercise will play in achieving this.
We will work together to increase your confidence, strength, vigor and energy. As well as creating a positive relationship with exercise.
You will have a helping hand every step of the way.
If you have ever felt alone, frightened or worried in embarking on your personal fitness journey, today is the day that will change.
Specialist Areas
Bespoke plan
Body confidence
Body fat reduction
Muscle tone and development
Nutritional guidance
Strength and conditioning
Weight loss
Qualifications
Level 3 NASM Personal Trainer
Level 2 NASM Fitness Instructor
First Aid Qualified