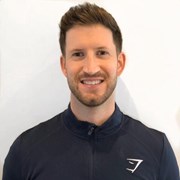 Charlie Thrussell
So, you're thinking about Personal Training sessions? What's making you consider this?
Wanting to be the best version of yourself for yourself?
Being in shape for a holiday or wedding?
Wanting to improve your general strength and fitness to be a stronger player within a sports team?
Being a fit and active parent?
Perhaps something else important to you?
Whatever your fitness goal, your 'Why' is key, as it is what motivates YOU!
Tapping into your 'Why', tailoring a programme to suit your goal(s) and ensuring that you're driven to succeed in achieving your desired outcome is where I come in.
As a lifelong sportsman and coach - participating in Football, Golf and anything in between - I've played to a high level and enjoyed the physical and mental benefits that being active has on your life.
So much so, combined with my passion for helping others develop and succeed, I decided to switch careers from Investment Banking to Personal Training.
If you want to get started or improve on your fitness journey to be the best version of you, let's have a chat and see what we can achieve together!
Specialist Areas
Body confidence
Muscle tone and development
Nutritional guidance
Strength and conditioning
Weight loss
Qualifications
REPS Level 2 – Fitness Instructor
REPS Level 3 – Personal Trainer
RNT Body Transformation Coaching
BSc Sport & Business Management