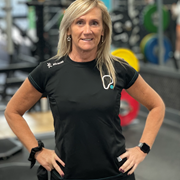 Bernie Ritchie
I am a Personal Trainer here at PureGym Livingston.
Health and Fitness is a massive part of my life, 11 years to be exact. During these 11 years there has been many setbacks involving my training. I had a late pregnancy that caused me to gain weight. I moved abroad with work and had to start a whole new life in Qatar. I had 3 major surgeries' due to health problems and not forgetting the menopause!!
During these times I knew I had to be smart with not only my training but my nutrition too. This taught me a lot about my body and what works for me.
During my time in Qatar, I started training in bootcamps 3x per week. This soon increased to 7x per week as I loved it that much. This then made me interested in different ways to train, so I decided to do CrossFit. This involved Olympic Lifting, Gymnastics and Conditioning. I absolutely loved every minute of it.
 I then decided 5 years ago to do my Level 2 Gym Instructor course and then started my own Strength, Conditioning and HIIT classes. This became a massive succession for me, but life had other plans and I moved back to Scotland. During lockdown I decided to do my Level 3 Personal Trainer course and use my passion to help others improve their life through health and fitness.
 If you feel this is something you have struggled with, please do not hesitate to get in contact today or catch me on the gym floor.
 Give me a shout on the email address below
Specialist Areas
Bespoke plan
Body confidence
Body fat reduction
Functional specialist
Muscle tone and development
Nutritional guidance
Strength and conditioning
Weight loss
Qualifications
Level 3 Personal Trainer
Level 2 Gym Instructor