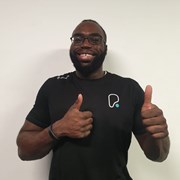 Augustine "Gus" Adeosun
From very little I have always had a massive passion for athleticism and performance, as such I have always been keen to find out the extent of my potential, the same goes for the people around me and those I train.
My goal is to share this enthusiasm with you to ensure you are made aware of what you are truly capable of, to push you to achieve things you never thought possible, to truly transform your perception of the gym and training.
All that is required of you is to be willing to commit and get stuck in.
As I can guarantee if you do, you will truly see the changes and results you desire.
In terms of getting to know me, I greatly enjoy moving heavy objects as I train for Powerlifting.
Specialist Areas
Bespoke plan
Body confidence
Body fat reduction
Muscle tone and development
Nutritional guidance
Persistent motivation
Strength and conditioning
Weight loss
Qualifications
• Level 3 Personal Trainer
• Power-lifting Coach
• Compound Exercise Specialist