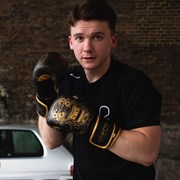 Antoan Delyanov
Hi, my name is Tony…
I'm a former karate champion. But believe it or not, before all of this, I used to be incredibly lazy, chubby and couldn't care about anything.
(You know, the type of person barely anyone talks to).
I battled terribly with dieting, weight, motivation and injuries. I used to think it took hours a day, every single day. And hundreds of pounds a week for food, but you couldn't be further from the truth. I cracked the code and I'm determined to help my clients reach their goals, regardless of their schedules. One hard-working session a week, pushing yourself to your absolute limit, with one healthy meal a day, you'll discover a new version of yourself you didn't even know existed, whilst being able to get home in time for dinner with your kids, or even finish that project you have due for work.
It's time to sculpt the body you've always wanted for yourself, without the crazy time commitment. Making you more confident and stronger, but most importantly, happier.
I HAVE A HOLISTIC APPROACH TO FITNESS AND LIVE BY THE 80/20 RULE MEANING THAT 80 PER CENT OF THE RESULTS COME FROM NUTRITION AND 20 PER CENT COME FROM TRAINING.
Specialist Areas
Body confidence
Body fat reduction
Muscle tone and development
Nutritional guidance
Sport specific training
Strength and conditioning
Weight loss
Boxing
Qualifications
Level 3 Personal Trainer
Level 2 Fitness Instructor
Optimum Performance Coach
MMA Conditioning Specialist
Certified Nutrition Coach
First Aid at Work