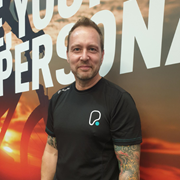 Anthony Grace
Hi, I am Anthony and becoming a Personal Trainer came out of my passion of being active and healthy. it is so difficult, due to the new ways of working life, to adopt a healthy and balanced lifestyle. That is where I come in! I love see people transform their lives though their commitment, hard work and a goal in mind. 
My favorite ways of training are: functional training HIIT, Tabata, martial arts style circuits, TRX just to name some.
My aim is to inspire and coach, by teaching positive nutrition and training habits. This is done with a tailored 12 week program, with the possibility of extending if required and to suit the clients goals and needs.
If you have a health and fitness goal, are hardworking and wishing to achieve, then I want to hear from you.
Feel Free to approach me anytime, I am on the gym floor to start your fitness journey now.
Specialist Areas
Functional specialist
Muscle tone and development
Nutritional guidance
Qualifications
Level 2 Fitness Instructor 
Level 3 Personal Trainer