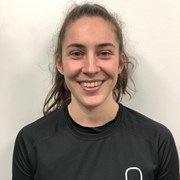 Anika Crane
Hey I'm Anika
I'm all about using compassionate coaching to help you to create a body you absolutely love to move in.
I first started the gym as a means to reclaim my body after a severe eating disorder, and I've grown to love my strength and skill in the gym instead of using exercise as punishment. 
I have a keen interest in strength and conditioning, injury rehab and helping everyday people to feel at home in their body through movement and lifestyle coaching. 
If you'd like to love more freely, build a body you're proud of and work on getting rid of that pain you've just learnt to live with, then send me a message and let's see how I could help you.
Specialist Areas
Functional specialist
Injury prevention and rehabilitation
Sport specific training
Strength and conditioning
Qualifications
Level 2 Gym Instrcutor
Level 3 Personal Trainer
Level 4 Strength & Conditioning