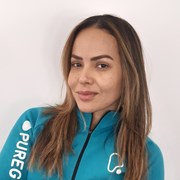 Edielen Alemida
Hi, I'm Angeline! 
We all have different goals when it comes to our personal fitness. Whether you are struggling with some stubborn weight loss, want to build your endurance, strength and muscle tone for an athletic event or would just like to get more active, hiring a personal trainer has never been so popular as an essential addition to your life. 
Staying fit and healthy is an essential part of our lives! I know that a healthy lifestyle starts with a healthy attitude, and this applies as much to your diet and social habits as to actual physical exercise 
Through fitness, I was able to overcome depression and have the experience and knowledge to help others do the same. My experience has made me want to help others achieve their fitness goals whatever they may be 
Including some exercise in your daily routine will also boost your self-confidence. All ages and gender are welcome without prejudice so there is nothing stopping you from discovering a fitter you!
You'll get a tailored programme and healthy eating advice, plus you'll have me to push you to the next level!
Be stronger than your excuses
Specialist Areas
Bespoke plan
Body confidence
Body fat reduction
Muscle tone and development
Persistent motivation
Strength and conditioning
Weight loss
Qualifications
Level 2 Gym Instructor
Level 3 Personal Trainer
Sports Nutrition