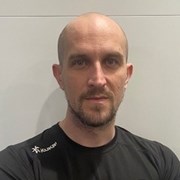 Allan Bell
Are you getting the most out of every session? Are you getting the most out of every rep?
In training there is no secret code to achieving your goal of getting stronger, getting fitter or losing those extra few pounds. There is only one thing that you may be missing, that's the fundamentals and the execution! Understanding the best possible way to optimize muscle growth and having that knowledge to get the best out of weight training and cardiovascular training. This is where having a Personal Trainer comes in handy, because as Michael Jordan once said 'You can practice shooting eight hours a day, but if your technique is wrong, then all you become good at is shooting the wrong way".
When you master the fundamentals that's when you'll begin to see improvements that add up to significant muscle growth or weight loss. Knowing how to execute each repetition, how to target the muscles for optimal growth, how to work your body through its paces to lose those stubborn few pounds. These are the benefits of having a Personal Trainer by your side guiding you the way. 
So, lets get down to business and lets achieve that goal you have set for yourself and smash through it and go far beyond it!
Specialist Areas
Body confidence
Body fat reduction
Functional specialist
Muscle tone and development
Nutritional guidance
Persistent motivation
Sport specific training
Strength and conditioning
Weight loss
Qualifications
Level 2 Fitness Trainer
Level 3 Personal Trainer
First Aider