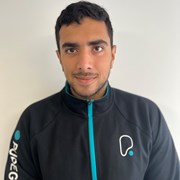 Ali Naqvi
During my school years, I was overweight. Tasks such as going up the stairs was difficult and carrying out basic activities felt nearly impossible.
I made the change at the age of 14, when I got into boxing. I was obsessed with combat, health and fitness, and yearned to learn more and more about this industry.
At the age of 17 I began working out consistently, and at 18 I solely trained calisthenics and developed my dream physique.
At age 19 I went vegetarian and transitioned and whole foods plant based diet at the age of 20, and as of March 3rd 2023, I am studying for my certification in plant-based nutrition, so if you happen to also be interested in incorporating more healthy plant-based diet options to your meal habits looking for a coach to aid with diet advice for optimal performance, I am your man.
Health screening and first personal training session is always free. Prices and packages can be discussed afterwards.
Specialist Areas
Muscle tone and development
Nutritional guidance
Weight loss
Qualifications
Calisthenics, Plyometrics and Flexibility 
Level 3 Personal Trainer 
Level 2 Fitness Instructor