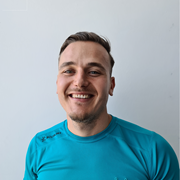 Alexandru Zdrafcu
I started training 6 years ago, when I used to be overweight and
struggling with my lifestyle.

After losing 20kg in 6 months and changing my body and lifestyle, I've decided that won't be stopping soon.

Today my desire is to help others around me, supporting and
guiding them to achieve their fitness goals.
Specialist Areas
Muscle tone and development
Nutritional guidance
Weight loss
Qualifications
Level 3 Personal Trainer
Level 2 Gym Instructor 
First Aid