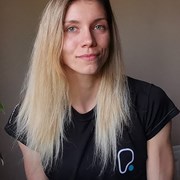 Aiste Baranskaite
Hello!
My name is Aiste, or you can just say Ice-T and I am a qualified Level 3 Personal Trainer.
I have alsways been involved on physical actives and competed in track field.  I have been competing in Pentathon and Hepathlon - both these sports require determination, motivation and discipline.
I do believe as a Personal Trainer I'm here TO SUPPORT AND HELP you through your fitness journey as its not only about physical appearance but also about improving daily life and becoming mentally stronger.
If you need support starting and moving forwards in your fitness journey, don't be shy and approach me on the gym floor or feel free to contact me. 
Instagram: @Aiste_Fitness 
Specialist Areas
Functional specialist
Muscle tone and development
Nutritional guidance
Persistent motivation
Sport specific training
Strength and conditioning
Qualifications
Level 2 Fitness Instructor
Level 3 Personal Trainer