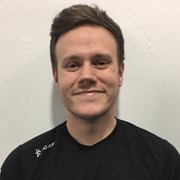 Contact
Free first session offered
Email me
Adam Cooley
Hello, I'm Adam. I am here to help you drop those dress sizes, lift heavier or add some more mass to your muscles - whether your goal is fat loss, muscle gain, increased flexibility or to feel healthier I can provide you with the tools you need to smash it and continue into your new life.
Are you fed up with feeling sluggish or self-conscious?
I have personally struggled with weight in the past due to lengthy spells out with injury so I have first-hand experience in shifting the pounds, if either of these are true for you we can discuss various forms of fat loss/compositional changes tailored to you. 
Want to max that deadlift or squat?
After 17 years' of rugby and strength training, I have comprehensively studied strength training which has delivered continued results in strength and speed.
Looking to fill your t-shirt?
Look no further! Building muscle is a delicate blend of nutrition and training, both of which will be covered in any of my 1-on-1 Personal Training programmes to ensure you have all you need to be best!
What I can do for you:
- Programme design 
- 1 on 1 sessions
- Nutrition advice
- Health testing
+ Many, many more!
Check out my website ACPTfit.co.uk
Specialist Areas
Body confidence
Body fat reduction
Muscle tone and development
Nutritional guidance
Sport specific training
Strength and conditioning
Weight loss
Qualifications
Level 3 Personal Trainer
Level 2 Fitness Instructing
Adapting exercise for older adults specialist
Certified specialist in Ante and post natal adults
Emergency first aid at work